In The News
September Hometown Happenings
Every Tuesday
Rice Area Farmers Market
4–6pm / Parking lot across form Shadys


Every Wednesday
Little Falls Market Street
7am-noon / More info
Every Saturday
LF Farmers Market
Boys & Girls Club / 7am-noon
Every Wednesday and Saturday
Little Falls Farmers Market
Boys & Girls Club / 7am-noon / More info


Thursday, September 6
Camp Ripley Blood Drive
8am-2pm / More info
Pierz Rock Roll & Stroll
5pm-8pm / More info
Saturday, September 8
Little Falls Arts & Crafts Fair
8am-6pm / More info

Sunday, September 9
Little Falls Arts & Crafts Fair
8am-6pm / More info


Wednesday, September 12
Purple Carrot Garden Party
Little Falls Ballroom / 5pm-8:30pm / More info
Saturday, September 15


Man Vs. Beast Rodeo
Morrison Co. Fair Grounds / More info


Wednesday, September 19
Rice Area Chamber of Commerce Meeting
12-1p / Contact Angela at 320.291.1889 for locations

2018 Area Cruise to Car Show
Polish Palace in Sobieski / 5pm-8pm / More info
Friday, September 21
Friday Morning Chamber Coffee
MN Computer Systems / 7:30am-9am / More info


Monday, September 24
LFHS Homecoming Coronation
7-8pm


Friday, September 28
SRRHS Homecoming Dance
9pm-12am
---
Ways you're wasting money every day
Where does your money go? While you are aware of your spending when you make a big purchase, you are probably losing money in smaller ways that you don't even see. If money seems to be leaking out of your life, here are some mistakes you may be making.
1. You buy too much coffee.
Stopping for a cup of coffee seems like a small expense, but that money adds up quickly. You can save yourself a lot by simply making your coffee at home.
Do you really need to buy coffee at all? Many work places, business offices and even retail stores offer coffee for free? If you frequent places with free coffee, take advantage of that.

2. You throw out good food.
If you often find yourself throwing out food, you need to take a look at where you're going wrong. You are obviously overestimating how much your family will consume.
You may also be taking the expiration dates on food too seriously. Those dates are simply a suggestion. Food does not suddenly become inedible because the date on the container has passed. Many foods are still good long after the expiration date.
As long as your food doesn't smell weird or look wrong, it's more than likely just fine to eat. If fruits or veggies have rotten spots, just cut them away and eat the good parts.
3. You don't wait for sales.
Make a habit of creating a meal plan based on what is on sale at your grocery store. Avoid paying full price for anything. Most products go on sale eventually. Be willing to try a different brand if it is on sale.
When shopping for clothing or electronics, it's always a good idea to wait for a sale. It will not only save you money, but it gives you time to consider whether you really want to purchase the item or were just caught up in shopping.
4. You buy because of sales.
Use sales to buy what you would normally buy anyway but resist the urge to buy something extra just because you find it at a good price. This is how many people end up with wasted food or a closet with more clothes than they can wear.
No matter how good the sale it, you are still spending money. Only buy what you need.
5. You're not paying attention to your thermostat.
Heating and cooling your home costs a lot of money, especially here in Minnesota, when it seems like it's either extremely cold or extremely hot. You can save by adjusting the temperature just a few degrees.
Also consider adjusting the thermostat during times when you aren't at home. If no one is at your house during the day, there's no reason to pay for more heating and cooling than you need. Most thermostats allow you to program them in advance. Modern wifi-enabled thermostats make programming very easy — even when you're not home. They can pay form themselves in the long run.
6. You eat out.
It's fun to go out to eat, and it's convenient to buy food that is already prepared, but it costs you a lot more money than it would to prepare your own food at home.
Cut back on eating out as much as you can, and the savings will add up quickly. Even if you think you can't cook, find someone to show you how to prepare simple meals. You'll find that it's much easier than you realize.
7. You buy convenience snacks.
Picking up snacks at the gas station or in the checkout line is a bad habit that is costing you money. If you need snacks on the go, keep some in your car. No matter what you're snacking on from the gas station, you can buy the same thing for a lot less at the grocery store and carry it with you.
8. You buy drinks.
Look at your next grocery store receipt and you will probably see that you spent a large percentage of your money on drinks. If you can bring yourself to give up the soda, juice, bottled water and energy drinks you will find that you save a lot of money. Replace these drinks with tap water, and you'll be healthier as well.
9. You buy cigarettes or alcohol.
Seriously consider putting an end to smoking and drinking, and it will save you big bucks. These items cost a lot of money, and in many cases, you will find yourself consistently buying more and more. Even a small change, like not drinking wine in the evening, can make a big difference.
If you need to cut back on your spending, consider these ways you may be wasting money. While giving up certain expenses may seem like a sacrifice at first, you will probably find over time that you didn't really need those items as much as you thought you did.
---
Get to know loan officer Doug Dahlberg
Get to know us
Meet Doug Dahlberg, a loan officer at our Little Falls branch!
Hometown: Columbia Heights
College: St. Cloud State University
Current city: Little Falls
How did you get into banking? When I was first going into college, two of my career goals were to own my own a sporting goods store and/or to get into the financial field. I got close to sporting goods and was either an owner/partner in a variety of businesses that were very similar. After 20 years, an opportunity arose with Pine Country Bank and I couldn't pass it up. I consider myself lucky to have fulfilled both of my career goals!
What do you do for Pine Country Bank? My main duties are as a commercial and consumer lender. I also serve as the physical security officer for all branches of the bank.
What's your favorite part of the job? Interacting with all of our bank customers whether they are a loan customer or someone just walking in to do their personal banking with the tellers. I also enjoy my coworkers so much. They're an amazing group of people with great personalities and an incredible wealth of knowledge.
What's special about Pine Country Bank? The commitment and involvement to the communities that we serve. The feedback I receive when people find out I work for Pine Country Bank is always a statement such as, "They do so much for the community."
Favorite local restaurant: I really like spicy Thai food, and there aren't really options for that locally. So at the risk of calling St. Cloud local, I would have to say Sawatdee.
What do you love about this community: Growing up in the cities, I never dreamed I would live in a small town. I love that I see many of the same people at the grocery store, at church or at a ball game or musical. I love the "community" feel of Little Falls and the sense of belonging that I find here.
Hobbies/free-time: I have four children, so most of my free time is spent watching, coaching or driving to their events.
What are you watching on TV/Netflix: "This is Us" and "The Blacklist."
---
Beware Tax Refund Scams
The tax filing deadline is right around the corner, and that means only one thing — the scam artists are lining up to steal refunds, grab personal information and make the lives of ordinary taxpayers even more difficult. Whether you have already filed your taxes or are still sorting through the paperwork, it is important to be on the lookout for IRS scams.

These IRS scams take many different forms. Some scam artists rush to file bogus refunds using real taxpayer information, grabbing the money and leaving the real taxpayer high and dry when they try to file their returns. Others call unsuspecting taxpayers and try to extort money under threat of arrest.

No matter what form these scams take, it is important to protect yourself and keep your money safe. Filing as early as possible is one ways to avoid being a victim, especially if you believe your Social Security number or other personal information has been compromised.

Filing early, before the bad guys have a chance to, gives you a level of protection, but what do you do if you receive a suspicious email or phone call from the IRS? These scams are growing in sophistication, and the latest iterations even spoof the real IRS phone number. You can no longer rely on your caller ID to tell you what is really going on.

What you should know is that the IRS never initiates collections activity over the phone or via email. If you do owe money to the tax agency, they will let you know with a good old-fashioned letter. If you receive a phone call or email from the IRS threatening arrest or prosecution, you can safely assume it is a scam.

If you do receive a phone call purporting to be from the IRS, the tax agency wants to know about it. You should contact the IRS at their actual phone number, and never return the call you received from the scam artists. The IRS continues to battle these scam artists, and the more information you can provide, the easier their job will be.

Above all, do not fall from the extortion tactics these IRS scammers use. The only reason these types of scams continue to rise is that people keep taking the bait.

It is easy to see why people fall for these kinds of scams. Being contacted by the IRS is the worst nightmare of many taxpayers, and it is tempting to just pay the money and move on. Just know that the real IRS does not operate in this manner, so report the scam and keep your money in your pocket.
---
This is Pine Country / Meet Chad Van Beck
Get to know us!
Meet Chad Van Beck, a senior business lender at our Rice branch, who came on board in 2017.
Hometown: Greenwald
Current town: Grey Eagle, Big Birch Lake
What do you do for Pine Country Bank? I help customers with their commercial and agricultural lending needs.
What's your favorite part of the job? Working with customers and being a part of their success. After working at a previous financial institution for 24 years, I made the move to PCB last April and I love my job.
What's special about Pine Country Bank? The hometown, friendly atmosphere. We truly want to meet people's needs and help them achieve their financial goals.
Community involvement: Stearns County Dairy Advisory Committee, Millwood Township Board, St. Rose of Lima Catholic Church
Do you have a favorite sports team? The Minnesota Vikings, even though we were let down again this year.
What do you do with your free time? I like to hunt, attend sporting events and spend time on the lake in the summer with my wife and kids.
What's your favorite local restaurant: La Casita, St. Cloud
What show are you watching on TV/Netflix now: Friends
---
Student Banking Powered by Pine Country Bank
Students! Open an account today and get a free power bank!
*Subject to successful qualification and opening of account, see a banker for details. Off er available to students aged 16-24, new checking account customers only.
Not valid with any other promotion or offer. Normal account restrictions and fees apply. Limit one promotion per customer. Available while supplies last.
---
Scams Can Happen - Learn to Spot Them
5 Simple Ways to Spot an Email Scam
1. The domain does not match up - Check who the email is from - the email domain (which is in bold below) is a dead giveaway if it is a scam, for example if you were to receive an email from Pine Country Bank it would be from an email like; info@pinecountrybank.com
2. Your full name is not used - When you open an email if it begins with "Dear user, Dear customer, etc." you should be a little suspicious. Most legitimate emails will be personally addressed to you using your full name.
3. A request for personal information to be sent via email - If a legitimate business needs you to update any kind of personal information this is almost always done on the business's website. A potential scam is if the email you receive asks you to respond to the email with any kind of personal information.
4. Poor grammar and spelling - This is one of the easiest to spot, if you open an email and it is very poorly written (spelling mistakes, grammatical errors, etc.) this is a a strong indicator that it is not from a legitimate source.
5. Requires immediate action - If you receive an email urging you to take immediate action, be wary. Call the business at their direct business line to confirm if the email was a scam or not.
There are a number of other ways you can protect yourself from email scams, but these are a few that will help you spot a scam much quicker!
---
Saving Money During Summer Vacation
Summer is the time for vacations, but how do you go about saving money during this time of year?
Here are some simple tips and tricks for saving money even when you are planning a vacation:
1. Get a credit card with rewards - the more you use it responsibly the more you get back
2. Have money automatically transferred to your savings account regularly - Example: every pay day take "x" percentage and put it into savings
3. Plan ahead, if you need cash for your vacation, stop by your local bank first to avoid ATM fees
4. Take advantage of coupons - many local newspapers and inserts include gas coupons to help you save on that upcoming road trip
5. Find free activities - during the summer months there are tons of free things to do such as planning a beach day at the local lake or taking a bike ride with the family
---
Making our Communities a Better Place - One Donation at a Time
A Donation to our Friends at Employment Enterprises Inc.
---
5 Simple Tips to Save Money While in College
5 Simple Tips to Save Money While in College
1. Set up automatic transfers - Meaning, every pay day set up for "x" amount of dollars to be transferred into your savings account
2. Budget your money by using a tool like this easy to use Student Budget Calculator
3. Choose the right credit card and use it responsibly - We can help you find the right credit card, just stop in to chat with us!
4. Be mindful about taking out students loans - Meaning, take the time and choose the right loan
5. Understand wants versus needs - Ask yourself important questions before spending money, such as, "Do I really need to go out to eat every night?"
---
Donation to St. Francis Music Center
Giving Back to our Local Communities
We are always looking for ways to help our local communities and recently we had the pleasure of making a donation to our local St. Francis Music Center!
---
Giving Back to Our Communities
Giving Back to Our Communities - Donation to the boys & Girls Clubs of America
---
Teacher Appreciation
Teacher Appreciation - Showing Our Local Teachers We Care with Sweet Treats!
---
Chad Van Beck - New Senior Lender

We are proud to announce that Chad Van Beck has joined the bank as a Senior Lender specializing in Ag and Commercial Credit at our Rice branch. His first day with the bank was April 6, 2017.
Rob Ronning, President of Pine Country Bank feels that Van Beck is a great addition to Pine Country Bank's Commercial Lending team, stating "With Chad's rich experience in lending and knowledge of our communities and local industries, I know our customers will be in good hands. He believes in local banking as much as we do so he's a great fit for Pine Country Bank."
Van Beck has 24 years of financial experience in the area. He started as an intern and held several positions including Senior Lender and Business Lending Manager overseeing a team of Lenders.
He enjoys lending because he gets to interact with people and be a part of their success. He has a degree in Finance from St. Cloud State University. Van Beck says, "I like the way Pine Country Bank does business and helps people, it's that hometown bank feel that I was attracted to. They stay focused on our local communities and that's the type of organization I want to be with."
Van Beck grew up in Greenwald, just south of Melrose, and currently, lives on Big Birch Lake with his wife and four kids. He sits on the Stearns County Dairy Advisory Committee, Central Minnesota Dairy Profit Team Executive Board and Millwood Township Board.
He enjoys hunting, fishing, water sports, sporting events and spending time with his family.
Contact Chad today by emailing him at chadv@pinecountrybank.com or by calling: (320) 393-4200
---
Diane Korver - April Employee of the Month
Diane Korver is April 'Employee of the Month'
Treating customers with kindness, respect and doing all she can to help them comes naturally to Diane Korver. She works as a receptionist at Pine Country Bank in Little Falls.
That is why she is so surprised to be chosen as the "Employee of the Month" for April by the Little Falls Area Chamber of Commerce.
"It's a very humbling experience. I guess when you love something as much as I do to help customers, it's so easy to do," she said.
It is something that hasn't gone unnoticed by Rob Ronning, president of Pine Country Bank.
"Diane understands what customer service is and is always willing to give 100 percent to help out our customers," Ronning said.
Receptionist Diane Korver, greets her customers, like John Faust, with a smile and is always ready to help them with their needs.
---
Community Banking Month
The month of April marks the celebration of Community Banking Month. On behalf of Pine Country Bank, I want to thank the Little Falls community for trusting us to meet your everyday banking needs. It is a privilege to provide personalized services for our customers and do it responsibly.
I want to take this opportunity to recognize Pine Country Bank employees as well as all the other dedicated professionals who work in independent, locally owned banks across our state. Together, we strive to not only serve our customers but also reinvest in our local communities. That makes me proud to say I'm a community banker.
Community banks are the "model citizens" of the financial services industry and have been a focal point for progress by providing the financial backbone that towns and cities need to ensure growth.
At Pine Country Bank, our business model is based on relationships with our customers and community—that's why we are "Your hometown bank." If you want to be treated as more than an account number, I encourage you to visit one of our branches and learn what community banking truly means. What better time to do so than Community Banking Month.
Sincerely,
Rob Ronning
President Pine Country Bank
---
Say Farewell to Bill Garber This Week
On March 24, Bill Garber, Vice President of Pine Country Bank, will retire. The bank encourages customers and friends to stop in to the Little Falls branch this week to say goodbye and wish him well.
"Bill has been a wonderful asset to Pine Country Bank and has left quite an impression with the people he has helped and worked with over the years. He will be greatly missed. From all of us at Pine Country Bank, we wish you the very best in your retirement," said Rob Ronning, President of Pine Country Bank.
A farewell from Bill:
"Many of you know I will be retiring on Friday, March 24th. In retrospect, I could not have scripted a more enjoyable career even if I were an Academy Award winning screen writer. My mother told me that I decided to be a banker when I was eight years old. I was fortunate to have a few banking mentors in Anchorage, where I grew up. I was able to attend a university that not only had a finance department at the undergraduate level, but also an option in banking. When I was in college the University of Minnesota and University of Wisconsin offered Money and Banking in their Economics departments, and Principals of Financial Management in their Business schools. So Oregon was a special place for what I wanted to be and do.
For nearly 46 years I have been blessed to help people and entrepreneurs achieve their dreams. Although I only have one child, I have many "babies" in the communities I have worked. These babies were ideas someone had for a new or expanded business that we helped get through the startup phase and achieve abundant success. This is often referred to as the Wonder, Blunder, Thunder and Plunder stages:
Wonder: can I do it
Blunder: make every mistake possible and survive
Thunder: everything you do turns out well, you grow, make a lot of money, and build a very solid business
Plunder: In the end you take out everything you can to build your personal nest egg, but hopefully leave something so you can sell for a nice gain
There are not too many people who have been fortunate enough to not only know what they wanted to do at an early age, but be allowed to do it for so many years.
Over the years, I have had the privilege to work with many wonderful colleagues, professionals, organizations and customers. And with the support my wonderful Bride, Jo Ann, I could fully engage with the communities we have served. This allowed me to meet and work with so many amazing folks that I will now miss seeing on a regular basis.
I have been with a number of organizations over my career and, for the most part, enjoyed my time with each of them. PCB is special to me because we are truly allowed to "do the right thing". My hope for you all is to know what a special place Pine Country Bank is to work and grow.
I will miss you all. As Garrison Keillor would say, be well, do good work, and keep in touch.
Thank you for your support, friendship, and for all you do!!"
-Bill
---
Erin Kulus Joins Pine Country Bank as Credit Analyst
We are proud to announce that Erin Kulus has joined our team as a Credit Analyst/Lender and she is working at our Little Falls branch.
Our President, Rob Ronning, feels that Kulus is a great addition to Pine Country Bank's team.
"Erin understands our community and believes in our commitment to providing the best service as a hometown bank. That, coupled with her experience and education, make her a great fit for our bank."
Kulus has over 10 years of financial experience. She is well-versed in regulatory requirements, loan originations, and educating customers on the variety of loan products and available credit options.
"What attracted me to Pine Country Bank was the friendly atmosphere and their involvement in the community—they truly are a community bank with a hometown feel. I look forward to working with a great organization that cares about their customers as well as their employees."
Kulus currently lives in Pierz and grew up on a small dairy farm near Flensburg. She enjoys horseback riding and photography, spending time outdoors and with her family.
Welcome Erin!
---
National Consumer Protection Week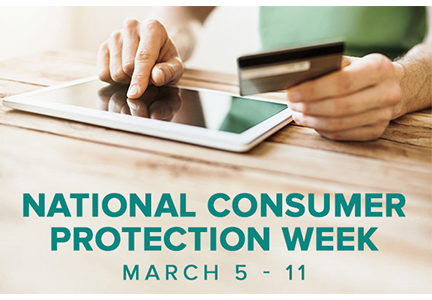 March 5-11 is National Consumer Protection Week - Visit consumer.ftc.gov for consumer protection tips and materials!
---
A Continuing Community Commitment
We are once again proud to help the Sons of the American Legion Squadron 46 with it's annual Patriot Flag program. Each Spring, before Memorial Day, 100 American flags are displayed by the Sons of the American Legion along the major streets in Little Falls.
They remain flying until at least Labor Day and weather permitting, continue to fly until Patriots Day, Sep. 11.
---
Improve Your Credit Score
Bad Credit or No Credit? Here Are a Few Simple Tips to Improving Your Credit Score:
Check your credit report regularly - be in the know when it comes to score and look for accuracy, watch out for any errors that may affect your score
Use a credit card - In order to establish a high credit score you need to have a credit history
Have credit card/s, but manage them responsibly
Only open credit cards as needed
Only use 1-2 credit cards each month to avoid having multiple cards with small balances
Loyalty - Open a credit card and keep it
Pay your bills on time
Reduce your debt - keep balances low on credit cards
---
10 Simple Tricks to Saving Money
Struggling to save money? Here are 10 simple tricks to help you build your savings account:
Open a savings account if you don't already have one
Set up automatic transfers to your savings account each pay check
Set a budget and stick to it
Pay off those credit cards each month to avoid paying high-interest rates
Every day save your change - Get into the habit of cleaning out your pockets or purse at the end of each day and stashing your change
Have extra money such as a tax refund or a year-end bonus? Put it directly into your savings account
Set aside money for saving at the beginning of each month, rather than saving what is left at the end of the month
Pay your bills on time to avoid unnecessary late fees
Determine wants versus needs - Ask yourself if there are expenses such as eating out that you could cut back on and put that money into your savings account instead
Think of your savings account as money that is off limits
---
Now Is The Time To Make A Change
Our Hometown Banking philosophy:
· No hidden fees—ever
· Personal banking relationships
· Always accessible
· Our customers come first
Learn more about our Hometown pledge here.
---
Lights. Camera. Save! Video Contest Winner
Lights, Camera, Save! is a teen video contest sponsored by Discover Debit, that encourages teens to educate themselves and their peers about the value of saving and using money wisely. Students enter the contest by submitting videos to local participating banks (Pine Country Bank).
Pine Country Bank has selected a local winner of the Lights. Camera. Save! contest that will go on to be judged at a national level!
The top three national winners will receive a cash prize of $1,000, $2,500, and $5,000 to fund their savings goal!
Additionally, each winner's school will receive a scholarship for a teacher to attend the 2017 Jump$tart National Educator Conference.
Our 2016 winners are: Austin Zapzalka, Lyle Zimmerman, and Randale Fernelius from Royalton with their video: "Savings is SAVAGE". https://www.youtube.com/watch?v=4TXecBwsza8
The runner up is: Jordan Malikowski from Royalton with his video "Don't be Kept in the Dark" https://www.youtube.com/watch?v=VHO2Au6PCsU
---
Watch Out For Fake Phone Apps
There's an app for that (but it might be fake)
As more and more consumers are shopping with mobile apps, fraudsters are following the money. There are fake phone apps popping up that impersonate well-known retailers in order to steal your personal information. Their names are similar to well-known brands, and their descriptions promise enticing deals or features.
But these fraudulent apps can take your credit card or bank information. Some fake apps may even install malware onto your phone and demand money from you to unlock it.
Here are some tips to avoid downloading fraudulent apps:
Not sure if a shopping app is legit? Go directly to the retailer's website and see if they promote it. If they do have an app, they will direct you to the app store where you can download it.
On the web, you can search a brand name, plus "fake app" to see if the company has reported its brand being spoofed.
Look for reviews of the app before you download – both in the app stores and on the web. If the app has no reviews, it was likely created recently and could be a fake. Real apps for big retailers often have thousands of reviews.
Don't download apps with misspelled words in their description. Many fake apps were created in a hurry. On the other hand, some fake apps look almost like the real thing.
If you're using apps for shopping, keep records of your transactions. Screenshot or save the product description and price, the online receipt, and the emails you send and receive from the seller.
Monitor your credit card statements frequently; be on the lookout for charges that you don't recognize.
---
Our New Education Center Is Here!
Get 2017 started off right!
Pine Country Bank offers all kinds of tips and tools for financial planning in our Education Center. The free offering is part of our dedication to helping local people succeed personally and financially! Check it out and get on the right financial path for 2017!
---
Deb's Many Holiday Hats!
During the Holiday Season, Deb from Pine Country Bank wears a different festive hat every day leading up to Christmas. Isn't that fun?!
---
Hometown Hoops + Hometown Banking
---
Celebrate the Holidays with PCB!
Come one, come all to our Holiday Open House! We will have bars and cookies served along with coffee and apple cider Door prizes will be Poinsettia Plants (2 each for LF, Rice and Royalton and 1 for Bowlus Office) And also 5, $10.00 Gift Cards (for each branch) to Jordie's Trail Side Café in Bowlus. Don't miss out on pictures with Mrs. Claus!
Rice, Little Falls, and Royalton: 9 a.m. to 5 p.m.
Bowlus: 9:30 a.m. to 2 p.m.
Make a Toy Donation
Little Falls: The Holiday Gift Giving Program
• Supporting Morrison County families for 23 years
• Make monetary donations or gift donations
• Tree with tags for shopping
Bowlus, Rice, Royalton: Toys for Tots
• Official drop off locations
Help the Hospice- Buy and Dedicate an Angel
Buy and dedicate an angel ornament for our Hospice Tree. The donation benefits CHI Health at Home Hospice.
---
Holiday Decor by PCB at the Mansion
Pine Country Bank employees had a little fun decorating a room at the Mansion for the Holidays! In case you missed the tours, we provided some pictures below.
---